Featured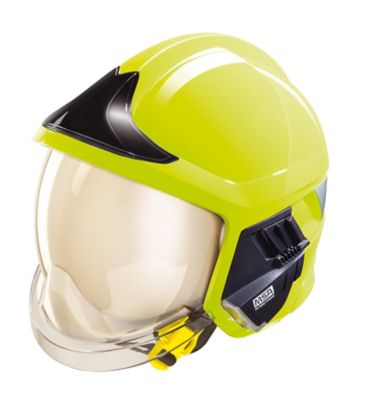 Gallet F1 XF and Accessories
Developed with firefighters from around the globe, the Gallet F1 XF sets the new standard for structural firefighting helmets. It enters a new dimension of protection, functionalities integration, comfort of use and modularity. The configurable design makes the Gallet F1 XF fire helmet the perfect fit for various interventions such as structural and outdoor fires, technical rescue operations and road traffic accidents.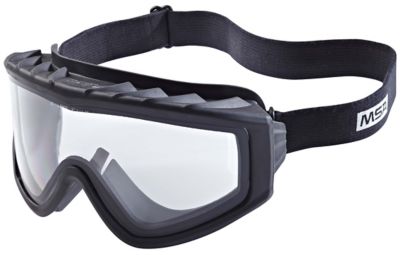 F2 X-TREM Accessories
To enhance the modularity of the F2 X-TREM helmet, MSA developed a wide range of accessories perfectly suited for all applications. From helmet mounted lighting solutions to secure operations at night, to tight eye protection for wildland fire-fighting, MSA thoroughly engineered each accessory to optimize safety in a wide variety of technical rescue and wildland firefighting missions.
Responder Goggles
These durable, medium-impact goggles are specially designed to meet the unique needs of emergency services personnel. Features a low-profile design, clear twin lens, and fire-retardant materials. The outer polycarbonate lens is anti-scratch while the inner acetate lens provides ultimate anti-fog protection. Face-fitting design and adjustable head band provide a secure, comfortable fit.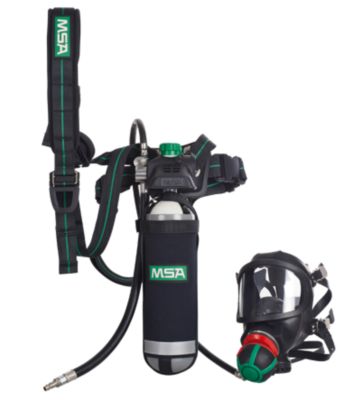 PremAire® Combination
The PremAire Combination, a Combination Supplied Airline Respirator with compressed air cylinder, is designed to be versatile, comfortable, and affordable. A streamlined design offers a first stage pressure reducer and cylinder valve within one assembly, creating a very small size and profile that is less likely to snag when working in confined space or tight places. The PremAire Combination can be equipped with either the 3S-PS-MaXX or the Ultra Elite-PS-MaXX full face mask in combination with the AutoMaXX-AS lung-governed demand valve.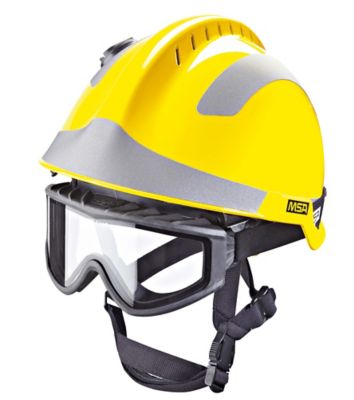 F2 X-TREM
With almost 30 years of leadership in technical rescue and wildland fire helmets, MSA offers F2 X-TREM, a multifunctional advanced protection helmet. Its comfort, modularity and wide range of accessories makes it the perfect head protection solution for various activities, such as wildland firefighting, technical rescue, Urban Search and Rescue, Road traffic accident.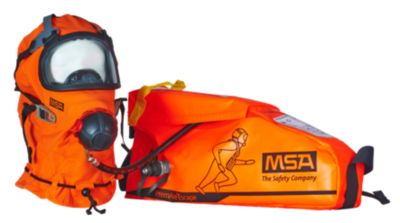 PremAire® Escape
PremAire Escape is a positive pressure short duration compressed air emergency escape breathing device (EN 402) that provides the user with respiratory protection while escaping from toxic atmospheres. The components of the respirator withstand high levels of potential industrial gas leaks and harsh chemical environments. With its intuitive donning procedure that takes less than 5 seconds, the PremAire Escape enables the wearer to escape without difficulty from a potentially hazardous environment. It offers an air supply of 10-15 minutes duration. The standard PremAire Escape is equipped with a 3S full face mask. For potential high concentration industrial gas leaks, like deadly H2S, the device is available with the PremAire Mask-Hood.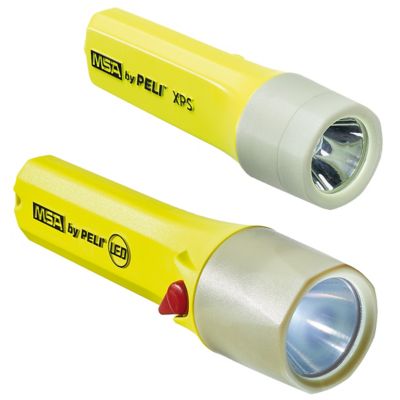 Helmet Mounted Lighting Solutions
When working in fire & rescue environment, it is essential to have a good view of any potential hazards and risks. Short, medium and long range, MSA helmet mounted flashlights cover all firefighter needs.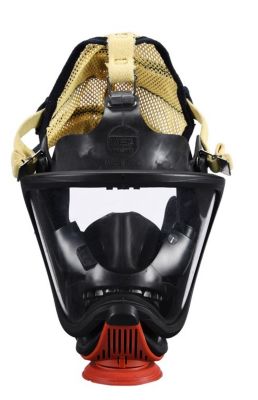 Ultra Elite® Positive Pressure Full-Face Masks
Combining state-of-the-art features with MSA's precision engineering, the Ultra Elite full-face mask is our top model in this range. The ergonomic design makes this a comfortable unit, while the 5-point harness makes it easy to put it on or take it off. The distortion-free coated lens provides a wide field of vision, while the unique airflow prevents lens misting. The face blank has a single-sealing flange and comes in rubber or silicone, while the speech diaphragm makes communication easy to discern. The model has more than 40 different versions, making it the perfect mask for many different applications.