Chillgard® RT Refrigerant Monitor
Capable of detecting refrigerant gas down to 1ppm, the Chillgard RT Refrigerant Monitor is purpose-built to monitor up to eight remote areas—and is completely configurable to detect either a specific refrigerant or group of refrigerant gases.
Chillgard® RT Refrigerant Monitor
CUSTOM-017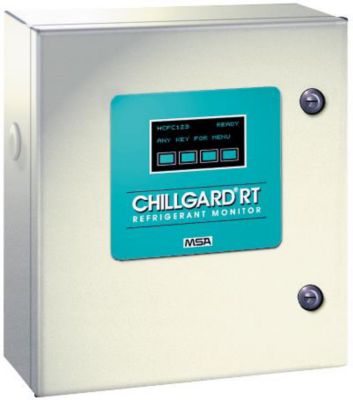 Very stable and highly selective photoacoustic infrared (PIR) technology
Precise detection of dozens of refrigerants, including any 400- or 500-series refrigerant
Easy-view vacuum florescent display
Standard features include audio alarm, three alarm levels, four relays and 4-20mA & 0-10V outputs
Reliable operation over a wide temperature range
Markets:
General Industry
Approvals subject to change without notice and may differ based on configuration, part number and/or country.
Contact Customer Service or check approval label on product for specific approval information.
USA Approvals
Canadian Approvals
European Approvals