Featured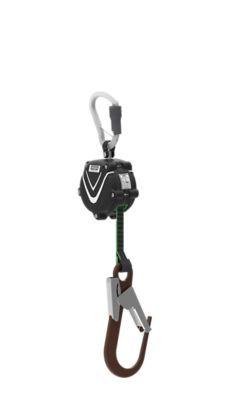 V-SHOCK™ Mini Personal Fall Limiter
The V-SHOCK Mini Retractable Lanyard is designed to take a beating in the roughest environments and maintains consistent performance under extreme use from one project to the next. It is one of the most compact & lightweight Mini SRLs in its class helping to decrease worker fatigue throughout the workday.
Featured
V-TEC™ Self-Retracting Lifeline
With premium  stainless steel components and innovative engineering, the V-TEC Self Retracting Lifeline incorporates a precision-made spring radial energy absorber that requires zero calibration or adjustment.  The retraction dampening feature controls cable retraction speeds preventing pre-mature and accidental load indicator deployment.
Latchways Sealed Self-Retracting Lanyards
The Latchways Sealed Self-Retracting Lifeline range offers a dependable means of fall protection and has been specifically designed for use in harsh environments such as oil rigs, wind turbines and other offshore applications.
V-TEC™ Personal Fall Limiter
The V-TEC Mini retactable lanyard is the most compact & lightweight self-retracting lanyard ever developed using multiple spring radial energy-absorbing technology. This new design eliminates the need for an external energy-absorber outside of the housing making it the smallest retractable lanyard on the market.
Workman® Personal Fall Limiters
The Workman Personal Fall Limiter (PFL) and the Workman Twin Leg Personal Fall Limiter are two of the most versatile fall protection devices available on the market today. The Workman PFL has a fast acting brake mechanism and the Workman Twin Leg PFL offers a great alternative to twin leg shock-absorbing lanyards.
Workman® Self-Retracting Lanyard
MSA's new Workman SRL provides the best value for your money! With lightweight design and durable, thermoplastic housing with impact-absorbing bumpers, the Workman SRL will not only be accepted by users, but also provides years of dependable service.